Home-School Partnership
Parental Involvement
Working in partnership with parents is the key element to a child's successful learning. It is a two-way dialogue, with parents and staff sharing information about the child.
Help and support from parents/carers is welcome, both at school and home. Working together with parents is the best way to support children in their opportunities for learning at the nursery and to complement the learning already going on at home.
When your child starts at nursery we will ask you to share information about your child's interests and experiences. This helps us to build up a picture of your child's development and enables us to plan opportunities for their learning. While your child is at the school, the staff keep a record of your child's development and interests, and shares this with you at regular intervals. Parents are encouraged to share information too.
How you can support your children at home:
by having conversations with each other

by listening to your child and encouraging your child to listen to you

by sharing activities and talking together about them

by encouraging your child's interests

by taking an interest in the work the children bring home

by borrowing books from the nursery library

by sharing books and stories at home

by playing with your children

by letting them help you with everyday activities at home e.g. cooking, drawing, writing, shopping, setting the table etc...

by sharing in all that your child does at nursery and by participating in nursery life e.g. contributing to displays, joining us on outings, helping in the nursery, collecting things for our collections etc...
All parents/carers who participate in these activities with their children will be helping their children to concentrate, persevere and begin to make connections about the world around them. These are the most important life skills you can give to your child to help them succeed in school.
Parents
Parents and carers have the most important role in supporting their children's development and learning. We want to work as closely as possible with you while your children are here: these early years are the ones that make the most difference!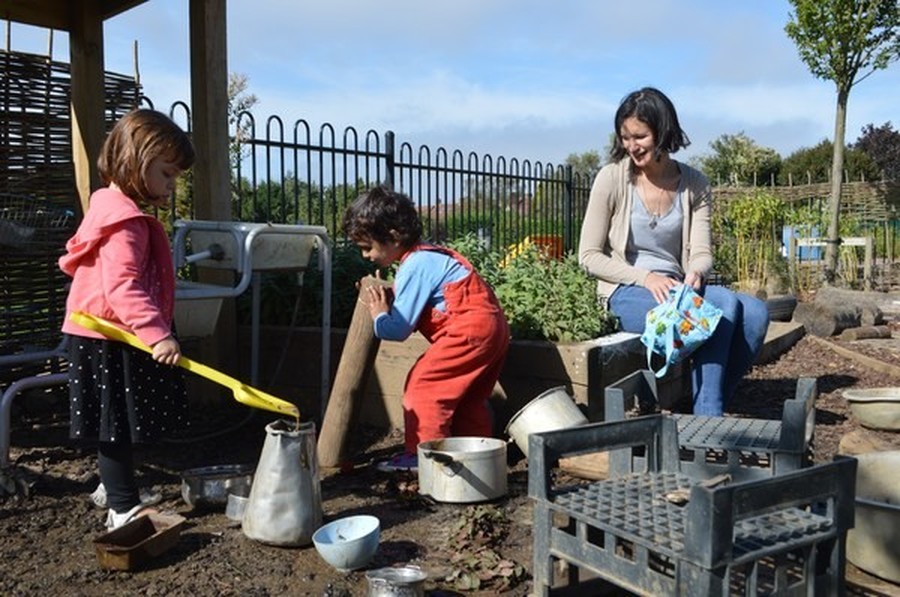 Parents' comments
When asked 'What does your child enjoy about nursery?' recently, parents gave these comments:
"My son loves playing in the new garden in the sand, climbing frame and the bridge."
"My child enjoys playing with his friends. He loves making things, especially cards."
"My child has really enjoyed the art and craft activities that Nursery School has provided. He comes home with a creation nearly every day! Thank you!"
"My child enjoys playing with her friends she has made here. Thank you!"
"My daughter is making friends, and she likes her key person too. She likes the garden."
"She loves everything about nursery schools"
"Playing with her friends. Rolling down the hill. Music session."